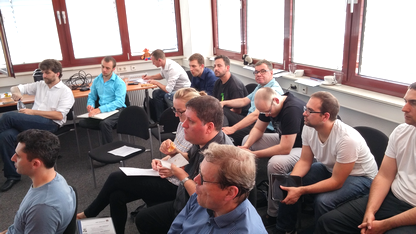 This is what the participants say
Never before have I taken so much information on intellectual property protection with me in a single day! This was due to competent speakers, but also to the lively format and the intensive case study work. Absolutely recommended!
Those who expect gray suits and frontal lessons must unfortunately be disappointed. Completely without expectations, I went to a "Law workshop" on 23.06.16. I didn't know any more about it. For me, it was just another networking event. Lawyers who tell something, it didn't sound too interesting at the beginning. How wrong I have been. The 4 came in a good-humored mood and from the outside also not recognizable as "lawyers" in the room, first mixed with the simple people, laughed and talked about preparing their presentation. They confidently took advantage of the relaxed atmosphere and wrapped their message into an interactive play. The presented scenario was well tailored to the target group, put questions and problems in the foreground, which many founders have already thought about. Just the right mix of fun, information and relaxed time to network. Personally, I have received a lot of information about an otherwise "boring" subject, with fun. Dress rehearsal succeeded, critics thrilled.
I attended, and it was really an all-round great event! General rehearsals usually fall into the water, but this was not the case here, not even due to the hot weather.
After many, more or less boring events, which I was already able to experience on the subject of law, this one surprised me positively! It was precisely through the interactivity and variety of methods that I was able to see many of my own questions more clearly for myself and to answer them in part. I'm glad to have taken the time. And I hope you bring this format even more among the people! Thank you!